This series is based on the Radical Experiment by David Platt. You can find more information about my decision to join here. If you would like to participate, please let me know with a comment or email and feel free to grab the button on my sidebar. I hope this journey will enrich your prayer life as much as it does mine!
I am convinced I could be an international missionary if I lived on one of these three islands....
I mean, who wouldn't? Seriously?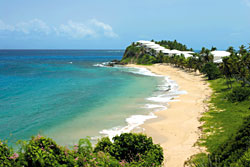 Honey, are you sure we haven't been called?
All joking aside, we really do need to pray for these tiny countries in the Caribbean. Although the majority of the population claims Christianity as their primary religion (you can be sure to find at least one church per square mile of Anguilla), they are not necessarily believers in Christ. In addition to their tourism industry, the islands are filled with money laundering, drug dealing, and gambling. There is a sense of complacency among these Christians - we need to pray for their spiritual wake up call.